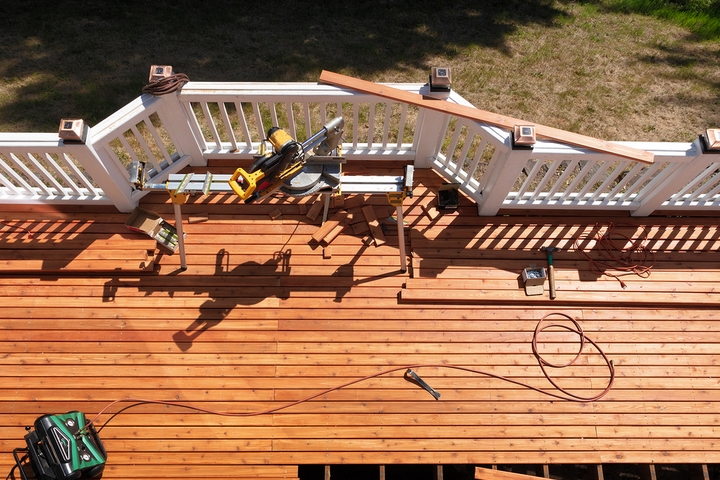 When upgrading an old deck or building a new one, choosing the right material is the most critical decision you can make. This isn't easy as there's a wide variety of decking materials on the market today. From budget to aftercare, there are many factors you need to consider when picking a decking material for your home. Initially, wood was pretty much the only option, but over the years, that has changed.
The following are the six best outdoor deck flooring materials for your home:
1. Pressure-treated wood materials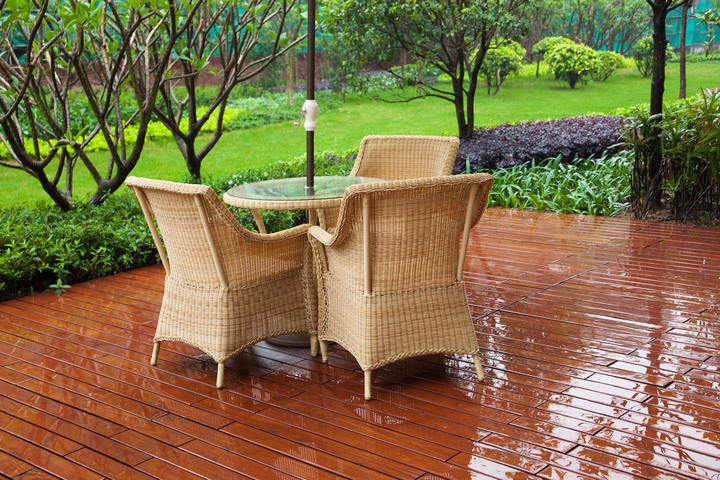 This is a great outdoor deck flooring material for your house. It's suitable for places with high humidity, as well as decks that are in direct contact with the ground. This material is chemically treated to withstand mould, rot, and insects, which may damage it. You won't have to worry about swelling, splitting or warping if you give it proper care and maintenance.
It has a lower price point compared to the other options, which is one of the main reasons people tend to gravitate towards it. Homeowners enjoy its visual similarity to natural wood and durability. If you're a DIY person, this is an ideal material that will look great for your outdoor decks. Unlike natural wood, pressure-treated lumber is easy to cut and fasten using nails or screws.
2. Cedar materials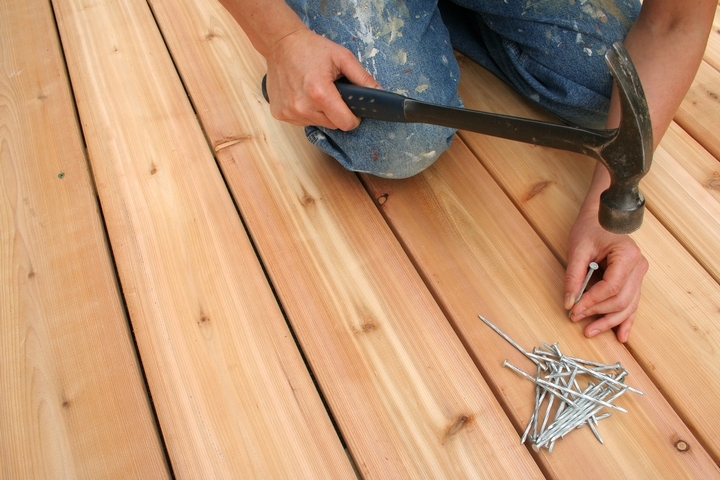 Cedar's natural beauty is unmatched by any other outdoor deck flooring materials. For anyone knowledgeable about wood, cedar is naturally their first choice. It makes for a beautiful deck. Besides, it's widely available, strong, but also lightweight. It also has fire-resistance capabilities.
This outdoor deck flooring material is easy to work with, making it an ideal for do-it-yourself projects. It contains tannins and naturally occurring oils that make it resistant to insects and rot, but protecting it with stain and a sealer keeps it free from splinters and cracks. Without proper care, its colour will eventually turn into a soft gray shade.
3. Redwood materials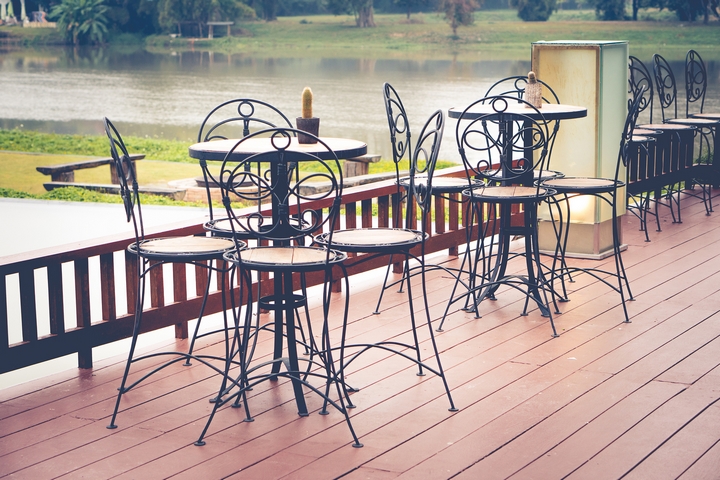 Redwood is an excellent choice for natural outdoor deck flooring materials. It shares several characteristics with cedar, that is, the natural tannins, gorgeous colour, and a lightweight yet strong finish. The main difference between these two is that redwood isn't as readily available. It's mostly found on the West Coast and is almost impossible to find in the eastern regions.
Besides, it's pricier than cedar. Redwood has excellent absorbing capabilities. Once a finish is applied, it can last for at least 20 years. It should be washed at least once a year to extend its life. With regular maintenance, this outdoor deck flooring material can last for 15-20 years. It's also another excellent choice for DIY enthusiasts.
4. Tropical hardwood materials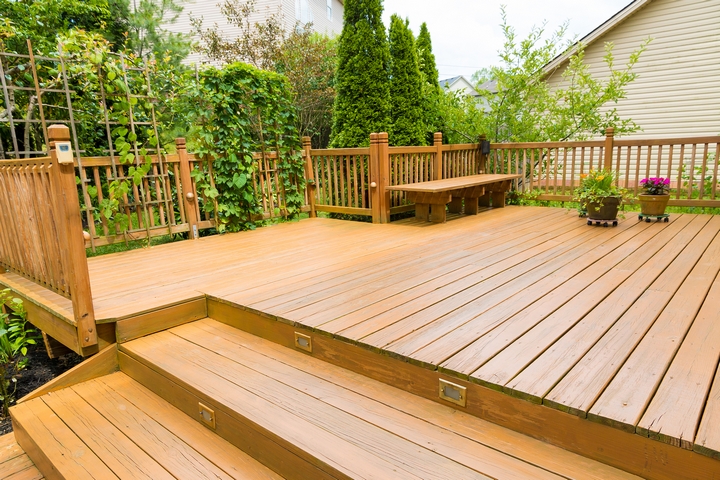 Some of the tropical hardwoods one can use for outdoor deck flooring include Philippine mahogany, tigerwood, red tauari, cumaru, and massaranduba. These exotic, rich-grain woods are naturally resistant to insects and rot, and they're tough and very durable.
Due to their density, tropical hardwoods are heavy and difficult to drill and cut. It's virtually impossible to drive a screw or nail in without boring a pilot hole first. For this reason, tropical hardwood decking is installed and fastened with a hidden fastener that clips into the edge of the boards.
It's relatively expensive, especially when compared to pressure-treated lumber. The density of a tropical hardwood doesn't let it absorb stains easily, however. To apply a stain, make sure it's an oil-based penetrating stain that has been specifically designed for hardwood decking.
5. Aluminum materials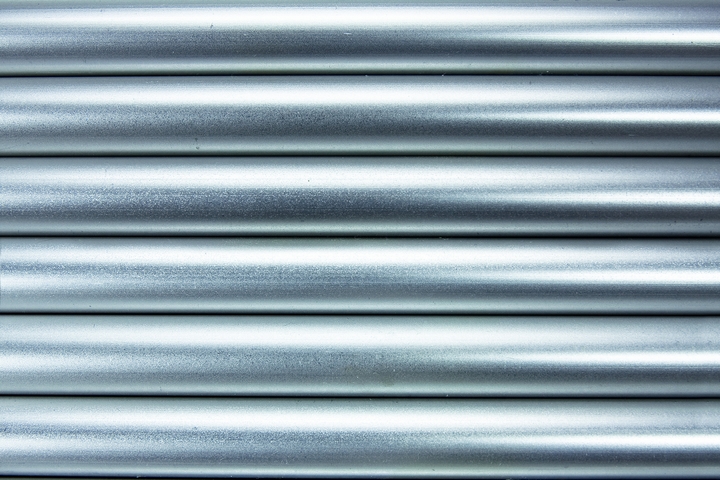 This is not the most popular choice for outdoor deck flooring materials, and chances are you have never seen it on decks. This doesn't mean it isn't worth considering. In fact, in some ways, aluminum is an ideal decking material. It doesn't splinter, crack, warp, rust, or rot. It also has mould, slip, and weather-resistant capabilities.
Its powder-coated finish virtually lasts forever. It never peels off. Wood-boring bugs hate this type of deck flooring. Besides, aluminum can't catch fire and is cryogenically strong, meaning it's not affected by freezing weather. Another great thing about this outdoor deck flooring material is that it's totally recyclable.
Compared to wood, plastic lumber, and composite, aluminum is lighter but up to three times stronger. The same carbide-tipped blades and saws used to cut wood can also be used to cut through aluminum. In most cases, aluminum planks feature interlocking edges, which result in a gap-free, watertight deck. They also feature built-in, self-draining channels that collect and dispose of rainwater, but you have to make sure the channels are always debris-free.
Surprisingly, aluminum outdoor deck flooring material is cooler when hit by sun rays compared to the other materials. This is due to its superior heat-dissipation properties.
6. Composite materials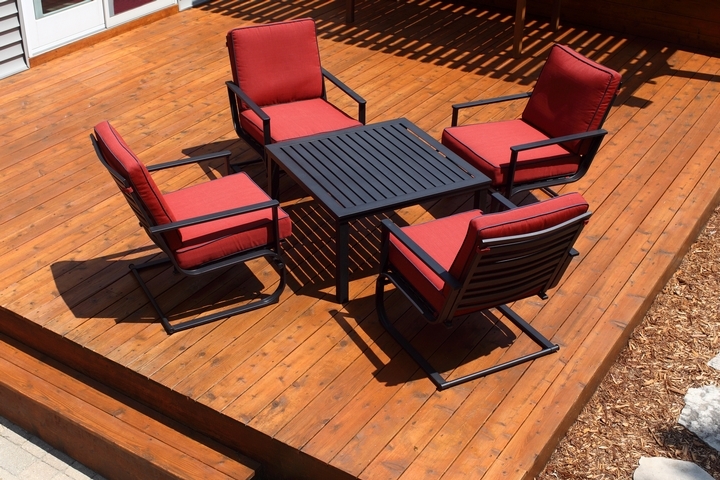 Composite decking boards are the fastest-growing trend in the decking board industry. They are made of wood fibre, which is combined with recycled polyethylene, resulting in a good-looking, low-maintenance material. Warping or splinters should be the least of your worries. It's also impervious to rot and insects. The main advantage of composite and other synthetic decking materials is that they're virtually maintenance-free.
These outdoor deck flooring materials are generally good looking. They will give your home an upgrade in terms of aesthetic appeal. Before you go to the hardware store to purchase any of them, make sure you have considered factors such as the cost and the climate in the area you live in.