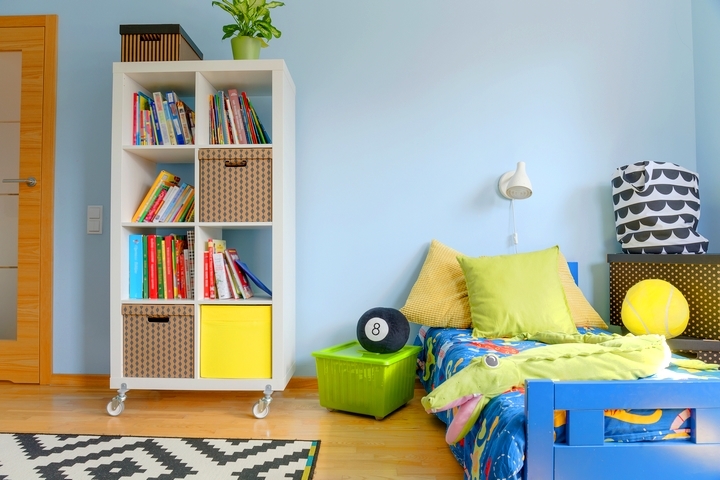 Painting the walls or adding wallpaper are popular in home renovations. If you're renovating your child's bedroom, it can be difficult figuring out what to do with the walls. Kids prefer fun colors or cute wallpapering over plain white walls. Here are some great tips on what to do with the walls when renovating your child's bedroom:
Shop for Zero-VOC Formulation PaintsWhile browsing paints for your child's bedroom, look for zero-VOC formulation paints because they're healthier than low-VOC and no-VOC paints. This is especially important if your child has allergies or chemical sensitivities.
Use a Scrubbable Finish
It's important to use paints with a scrubbable finish, so you can easily clean potential stains from the wall without damaging the paint job. Be aware that a washable paint isn't the same thing as scrubbable. Washable paints are easy to clean but you must be careful to not scrub too hard or too many times. Overscrubbing a wall painted in washable paint results in blotchy or inconsistent areas.
Paint the Walls Different Colors
Another tip for renovating your child's bedroom is to paint each wall a different color. It helps create a fun atmosphere. If your child shares their room with a sibling, then this tip can also make both happy since they may not agree on what color they want the walls to be. By giving each child a wall color to choose, both will be happy.
Hand Paint a Mural
You could also hire a decorative painter or home improvement contractor to hand paint a mural on your child's wall. Examples of hand painted murals you can add to your child's bedroom are princesses, trees, butterflies, dolphins, a baseball field, and a rainforest. Just about any idea you think of can work.
Stick Wall Decals on the Walls
An alternative to hand painted murals is wall decals. Peel-and-stick wall decals are easy to install on the wall. Wall decals are available in many different designs, sizes, and colors, so you're bound to find something your child will love. You can even mimic the look of a hand painting with some wall decals.
Have Wallpaper Installed
Another option for decorating the walls in your child's bedroom is having wallpaper installed. Wallpaper is great for adding backdrops, textures, and interesting patterns to the bedroom. Other situations in which you may want to use wallpaper is for themed rooms and an alternative to hand painting.
You can consult with home improvement contractors to determine which wall renovation idea would work best for your child's bedroom and allow them to paint the walls for you rather than do it yourself. Remember to specify you want zero-VOC paint used if you're having the walls painted because it's good for your child's health and the environment.